Standard Podcast
[ 9:07 ]
Play Now
|
Play in Popup
|
Download
Master Your Vocabulary. Take a look at:
Vocabulary List
- Easy to study list with pictures and recordings for some words
INTRODUCTION; I wrote the first poem  here, based on my memory ,dates back to 40 years. i am confident that  you will certainly enjoy. Do read, listen,write, learn,discuss,enjoy,  review, comment,rate  and share with others(especially children). This is hypothetical, does not relate to anyone. Thank you.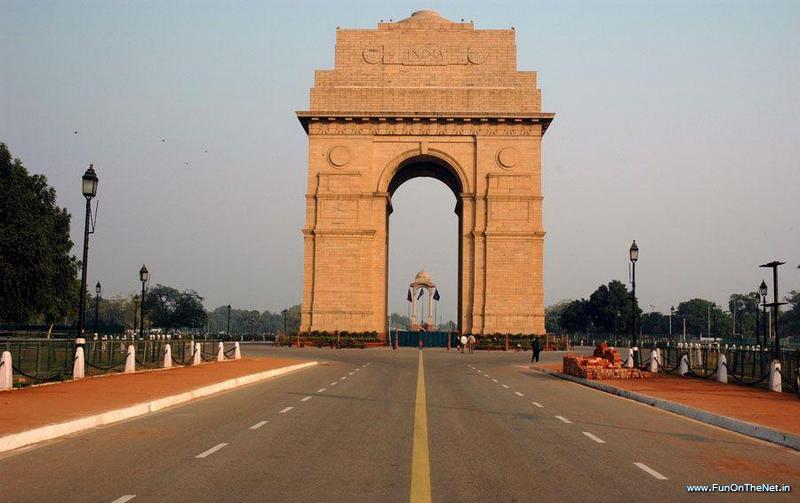 Poem No.1
मोटू सेठ  = MOTU SETH ( FATTY OWNER)
(See all the lesson from Suresh;  See the First Lesson from Suresh; Build Your Vocabulary By Mastering 4 Words a Day)
(Looking for something else?  Check out our Lesson Finder, Newbie Lessons, and Beginner Lessons)
PLEASE NOTE: कवितायें  kavitaayen means poems
Hindi                                  Transliteration                   Translation
मोटू सेठ सड़क पर लेट | (Motu seth sadak par layt  . )
   Fatty owner lay  on the road.
गाडी आयी फट गया पेट | (Gaadee aaee phat gaya payt. )
Vehicle came bursting stomach.
गाडी का नंबर २८ |(Gaadee  ka number twenty eight(28)   vehicle's number  28.
गाडी  पहुँची इंडिया गेट | (Gaadee pahunchee India gate.)
The vehicle reached  the India gate.
इंडिया  गेट  में मिला सिपाही | (India gate mein mila sipahee. )
Cop (policeman) met in India Gate.
मोटू की हुई बहुत  पिटाई  | (Motu kee hui bahut pitaayee. )
 The fatty person was beaten a lot.
शब्दावली ( Shabdavali ) Vocabulary
Devanagari(Transliteration) Translation
सड़क (sadak ) road.
गाडी (Gadee ) Vehicle
आयी (Ayee ) came
फट (fut) burst(tore)
पेट ( payt )stomach
पहुँची (pahunchee )reached/arrived
मिला  (mila ) met
सिपाही   (sipahee ) Cop/police
पिटाई (pitayee beaten
===============================================
कविता  संख्या २    =  Kavita sankhya  2     =    Poem No.2
प्यासा कौवा   (Pyaasa Kauwa ) Thirsty crow
एक कौवा प्यासा था I 
(Ek kauwa pyaasa tha )
A crow was thirsty  .
जग में थोडा पानी था |
(Jug may thhoda paanee tha.)
There was a little water in the jug.
लाया कौवा पत्थर(Kauwa laayaa pathar)
The crow brought pebbles/stones.
पानी  आया  ऊपर(Paanee aayaa oopar)
Up came the water,
कौवा  पीया पानी |(Kauwa peeya paanee.)
The crow drank the water .
खत्म होती है  कहानी | (Khatm hoti hai kahanee.)
There, ends  the story.
Hindi Transliteration Translation
कौवा ( kauwa ) crow
प्यासा (pyaasa ) thirsty
जग (Jug ) jug
में  (mine) in
था (tha ) was
थोडा (thhoda) a little
पानी (panee) water(also called jal in Hindi)
लाया  (laaya ) brought – past tense
पत्थर (patthar ) pebble/stone
ऊपर आया  (OOpar aaya ) came up -past tense.
पीया (peeyaa) drank -past tense
खत्म (khatm ) end (also  called समाप्त   samaapt or अंत ant  in Hindi)
कहानी (kahaanee) story or tale   called कथा  ( Katha)  in Hindi
=======================================================
Poem No.3  एक  ,दो , तीन  ,चार  …(ek do, teen, chaar..) – One,two,three ,four-
Hindi Transliteration Translation
एक  दो , कभी  न  रो |( Ek do, kabhi na ro.)
One two,  never cry.
तीन  चार  रखना  प्यार | ( Teen chaar rakhna pyaar.)
Three four, have love
पांच  छह , मिल  कर  रह|( Paanch chhe, mil kar rah .)
Five six, live together
सात आठ  पढ़ ले पाठ |(Saat aath padh le paath.)
Seven eight, read the lesson.
नौ दस जोर से  हस | (Nau das joar say hans,)
Nine ten, laugh loudly.
Hindi Transliteration / Translation
कभी  न  रो  (kabhee n ro w.) Never cry
रखना (rakhana )have/maintain/keep
प्यार (pyaar) Love-  or स्नेह  = sneh,  वात्सल्य = vaatsalya
मिल कर (mil kar) together (also called  एक साथ (ek saath )
रह  (rah) live
पढ़ (padh) read
पाठ (paath0 lesson
जोर (joar) loudly
हस (hans) laugh
Quiz:
1. Difference between प्यास    and प्यासा
2.गाडी का नंबर क्या था ?  and what is number called in Hindi?
3. Write one to ten in Hindi? Also, please indicate, what do you call for zero in Hindi?
4. Hindi words for Cry.
5. Normally जग   has two meanings?
6.पिटाई   से  क्या  समझते  हैं  ? Write the answer in Hindi.
Task:  I request  all participants to make an effort to write at least a new  4 line Hindi poem together with transliteration and English translation, as stated above.
S Suresh Kumar
Hindi tutor and translator
Sskay56@gmail.com
919840643690
Have a question about Hindi? Click here to ask it
Looking for something more basic? Why not try our "50 Hindi Words to Get You Started" Lesson?
Looking for something else? Check out our Hindi/English Dictionary.
Learn Hindi