Standard Podcast
[ 5:18 ]
Play Now
|
Play in Popup
|
Download
Master Your Vocabulary. Take a look at:
Vocabulary List
- Easy to study list with pictures and recordings for some words
HINDI LESSON No.114 Short stories : The monkey and the squirrel
=======================================
– बन्दर और गिलहरी Bandar aur gilharee –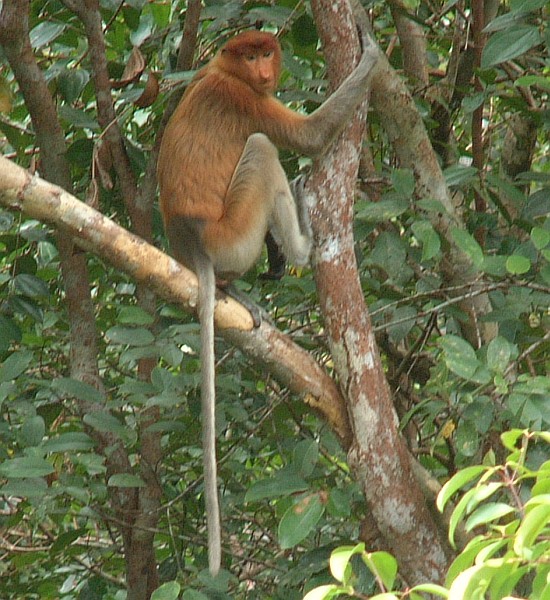 Devanagari
( transliteration )
translation
एक (ek) बन्दर पेड़ (tree or वृक्ष-vriksh or taru तरु ) पर बैठा था | (sat)
(Ek Bandar ped par baitha tha)
. A monkey was sitting on a tree.
बन्दर की पूँछ  (tail) बहुत लम्बी थी |
(Bandar kee poonch bahut lambee thee.)
Monkey's tail was too long.
पूँछ इतनी  (so) लम्बी  (long) थी कि वह जमीन (ground) तक को छू  (touch) रही थी |
( Poonch Itnee lambee thee kie vah jameen tak ko chhu rahee thee.)
The tail was so long that it was touching the ground .
एक गिलहरी  (squirrel)  जमीन पर उछल- कूद  (jump) कर रही थी |
(Ek Gilharee jameen par oochal kood kar rahee thee.)
A squirrel was jumping on the ground.
अचानक (suddenly) , गिलहरी को एक पूँछ दिखाई  (see) दी |
Achanak, Gilharee ko ek poonch dikhai dee. )
Suddenly, the squirrel saw a tail.
उसने सोचा (thought)  यहाँ झूला  (swing) कहाँ  (where) से आ गया  (came) |
(Usney socha yahan jhoola kahan se aaa gaya.)
He thought where from this swing came ?
थोड़ी देर ( a while) पहले (ago)  तो नहीं था |
(Thodee der pahlay to nahin tha. )
It was not there a while ago.
वह बन्दर के पूँछ पर झूलने  (swinging)  लगी |
( Vah Bandar key poonch par jhoolnay lagee.)
She was swinging on monkey's tail.
बन्दर ने गुदगुदी (tickle) महसूस (feel)  की |
(Bandar nay gudgudee mahsoos kee )
The monkey felt the tickle.
उसने नीचे (down) देखा  (looked) |
(Usnay neechay dekha).
He looked down .
वह हंस (laugh) कर बोला , बहन  (sister) गिलहरी |
(Vah hans kar bola, Bahan Gilharee. )
He spoke laughingly, sister Squirrel.
तुम (you) क्या (what) कर रही हो ?
(Tum yah kya kar rahee ho?)
What are you doing?
मुझे गुदगुदी (tickle)  हो रही है |
(Mujhey gudgudee ho haree hai.)
It is tickling me.
गिलहरी चौंकी (startled) , बन्दर भैया (brother) , यह तुम हो ?
(Gilharee chaunkee, Bandar Bhaiyaa, yah tum ho? Squirrel startled,
brother monkey, it's you?)
1. मैं (I) तो तुम्हारी पूँछ को झूला (swing) समझ कर झूल रही थी (was swinging) |
( Main to tumharee poonch ko jhoola samajh kar juhool rahee thee.)
Thinking your tail as swing I was swinging.
2. मुझे (I) बहुत (too much) मज़ा (fun) आ रहा था |
(Mujhey bahut maza aa raha tha.)
I was having too much fun.
3. गिलहरी हंसती हुई पेड़ पर चढ़ गई |
( Gilharee hanstee hui padh par chadh gai.)
The squirrel climbed over the tree, laughingly.
Quizzes
1.बन्दर की पूँछ कैसी थी?
2.Tickle here refers to.?
3. अचानक गिलहरी को  क्या दिखाई दी?
4. देखा उसने नीचे  | Arrange this sentence correctly, if incorrect.
S.Suresh Kumar
A Hindi Tutor and translator,
sskay56@gmail.com
91 9840643690
Have a question about Hindi? Click here to ask it
Looking for something more basic? Why not try our "50 Hindi Words to Get You Started" Lesson?
Looking for something else? Check out our Hindi/English Dictionary.
Learn Hindi